Rally To Protest Human Rights Abuses in New York City
---
As many of your know, the Mayor of New York City, Eric Adams announced last month HERE that he is authorizing New York City's police and emergency first responders to forcibly hospitalize unhoused individuals and people with psycho social disabilities who are deemed to be unable to meet their own needs. This comes on the heels of an eerily similar 'solution' signed into law by California Governor Gavin Newsom called 'Mental Health Courts' described HERE  a draconian law which make it easier to force people in California who are deemed to be 'mentally ill' into 'treatment' by subjecting them to legal arrangements known as guardianship or conservatorship, in which individuals have virtually no rights whatsoever.
These so-called 'solutions' come on the heels of decades of the failure of government to invest in affordable housing as well as non-drug, non-force interventions for people who are perceived to be experiencing a mental health crisis.
It should come as no surprise, since for years, so-called advocates for the 'mentally ill' such as 'Treatment Advocacy Center' have been conflating the relationship between violent crime and the 'untreated mentally ill' to create the climate of fear that underlies these human rights abuses.
Today, urban residents and business owners view the scapegoating of unhoused individuals and people with psychosocial disabilities as a small price to pay for the removal of all undesirables from their gentrified streets.
MindFreedom International board member and human rights leader Vesper Moore has informed us that a coalition of human rights and civil rights organizations that they are involved with including Communities United for Police Reform (CUPR) and New York Lawyers for the Public Interest (NYLPI) are fighting back. Their efforts provide a model for MindFreedom activists around the world and we urge you to check out their work!
This coalition is organizing a series of rallies in front of New York City Hall to denounce Mayor Adams new policies which activists rightly claim are discriminatory, irrational and dangerous. This rally is being organized specifically by an organization called Correct Crisis Intervention today (CCIT-NYC)
Media Coverage of the previous rally
The date of the next rally is December 20, 2022.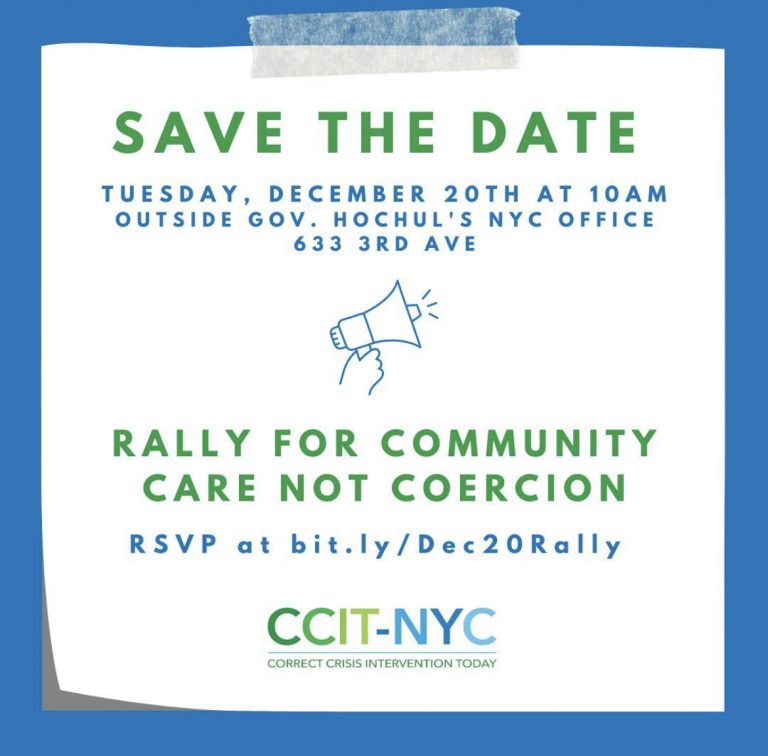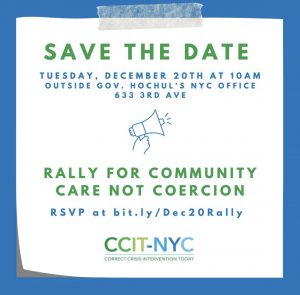 You can download and share the flyer for this rally by clicking HERE
To show your support of CCIT-NYC or to RSVP your attendance at the rally click HERE
MindFreedom International has long promoted direct action as the means to achieve a non-violent revolution in the mental health care system. Please show your support for this and other efforts to win human rights!