In this issue: Comfort Calls/Shield campaign fundraising drive, 60 Minutes online petition, register NOW for the 2014 Alternatives conference, MFI-Mad Market Book Club…
October/November 2013
Dear friend of MindFreedom,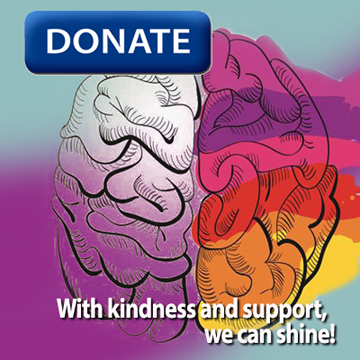 Our fundraising drive continues in November! We hope to raise the money needed for MindFreedom's Comfort Calls/Shield program.
We will be developing a training program and continue recruiting dedicated volunteers who will give hope to people in their darkest moments.
In addition to intensive training and staffing program oversight, your donation will help us to purchase tracking software, design/create training materials and continue the call-in support program in our New York office.
Please visit the donation page here:
http://www.razoo.com/story/Comfort-Calls-Shield-Program
Please give as generously as you can to help us re-invigorate this vitally important program. If you can't donate at this time, you can still help us reach our goal by sharing this newsletter WIDELY with family and friends. And don't forget to post a link to it on your Facebook page.
What is the Comfort Calls/Shield program?
Comfort Calls program is a collection of specially-trained volunteers who are available by phone to offer a measure of peer support for callers who are under stress of an abuse by or within the mental health system. It is not meant to be a crisis line for emergencies.
The MindFreedom Shield Campaign is an extension of our Comfort Calls program, which provides additional protection for MindFreedom members who want to register. The service is provided free of charge to MindFreedom members only. Our volunteers are trained to help you through the process of signing up. If a member with a Shield is threatened with coerced psychiatry, that member can quickly activate a public alert system.
I hope you will you join in helping us raise what is needed for this crucial MindFreedom program. Thank you!
Sincerely,


Celia Brown, Board President
MindFreedom International
Visit our Facebook page to get up-to-the-minute posts on issues of importance for our work to win human rights in the mental health system. We welcome your comments and involvement!
---
A September 29th airing of a
60 Minutes
segment shamefully portrayed people with psychiatric histories as violent, inhuman, unworthy of compassion and incapable of making their own decisions. CBS offered one point of view from E.Fuller Torrey, whose solution is more forced treatment and a life sentence of psychiatric institutionalization and incarceration.
In response this media disaster that promotes stereotypes and completely leaves out the voices of psychiatric survivors, MindFreedom has launched a change.org petition to CBS. We have called the petition, "Jeffrey Fager, 60 Minutes Executive Producer: Let Psychiatric Survivors Speak for Themselves!"
Nearly 300 people have signed so far, but we need many more of you to voice your concern…please sign this URGENT petition and share WIDELY!
---
SAVE THE DATES: JULY 24TH – JULY 27TH, 2014
Registration is now open for…
Creative Revolution Conference: "Developing and Expanding Alternatives, Making BIG Changes!"
The MindFreedom Choices Committee is planning a conference for July 24th through July 27th, 2014, at Wisdom House in Connecticut.
Visit the MindFreedom web site to find out more, or to prepay* before December 31, 2013, email: creativerevolution2014@gmail.com.
The goal of the conference is to inspire and encourage more people to develop alternatives to the mental health system. We will create time for networking so that people can support each other in building and running alternatives.
* $25 discount available to those who prepay before December 31st.
---
MFI Book Club starting up:
Sign up today!
MindFreedom International is excited to announce the launch of a new Online MFI Book Club in December! Each month we will feature a new book from our MadMarket for review and lively discussion by members (you'll be able to buy them all from MindFreedom's MadMarket).
Sign up today, by clicking here to add your name to the LISTSERV called, "MFI-BookClub-Talk." We'll announce the first book choice for December via the LISTSERV or watch for an announcement on our Facebook page.
The book by Robert Whitaker (pictured to the left), "Anatomy of an Epidemic," is just one of many that are available from our MadMarket online bookstore.
---
If you'd like to see more of the same kind of cutting edge programs and international organizing for change in the mental health system, please join or renew your membership TODAY…NOW IS A GREAT TIME TO SUPPORT MINDFREEDOM INTERNATIONAL!

We need your help to make 2014 a great year for MindFreedom and the dynamic activists around the world working for alternatives and real change in the mental health system!
Why donate to MindFreedom?
For more than 25 years we've worked tirelessly and with uncompromising integrity AGAINST
abuses in the mental health system
and FOR a revolution to change that system….
Our campaigns make a real difference in people's lives
and we're making real progress! We've staged successful protests against psychiatric abuses like forced electroshock and dehumanizing labels. We've publicized the stories of people, who have been forgotten by the indifference of a society that rejects the "outcasts" among us, who have found mental wellness and reclaimed their right to live mentally free!
Help us continue our important campaigns for human rights and dignity…
We have exciting ways for you to put your hands and heart to work for a creative, nonviolent revolution in the mental health system, but it's missing one crucial element:
your involvement!
We invite you to join us!
Find out more about MindFreedom's important work for social change and click here if you're ready to get involved!
---
MindFreedom International
541-345-9106 | email: office@mindfreedom.org | Find us on Facebook!
---
If you don't find this newsletter helpful,
please find the unsubscribe link at the bottom of the page and notify us.
---
We are a membership-driven non-profit and we care about you! Your contribution is fully tax-deductible. Please donate online or you can donate the old-fashioned way: make your check out to: MindFreedom and mail to: MindFreedom | P.O. Box 11284 | Eugene, OR 97440-3484
Thank you very much for the work you do and your continued support in 2013.
MindFreedom International is a 501(c)(3) non-profit organization and all contributions are fully tax-deductible. Please consider giving a gift of a MindFreedom membership to a friend or family member!
Document Actions